ASCO Valve 8210 Two-Way Solenoid Valves
The ASCO Series 210 is a line of economical, high-flow solenoid valves for liquid, corrosive, and air/inert gas service. With a wide range of pressure ratings, sizes, and resilient materials, the ultra-reliable 2-way valves provide long service life and low internal leakage. Industrial applications include car wash equipment, air compressors, pumps, laundry equipment, and industrial water control.
Prices Starting at $160.00
Valve Actuation

Solenoid
Body Material

Brass, Stainless Steel, Lead-free Brass
Media

Aggressive Liquids/Gases, Air, Inert Gas, Ammonia, Cryogenic, Fuel Oil, Hot Water, Light Oil, Liquid Propane Gas, Natural Gas, Oxygen, Steam, Vacuum, Water
Pipe / Port Size

1/2 "; 3/8 "; 3/4 "; 1 "; 1 1/4 "; 1 1/2 "; 2 "; 2 1/2 "
Port Type

NPTF, G (ISO 228/1)
Function

2 way – 2/2 Normally Closed, 2 way – 2/2 Normally Open
Flow

From 0.86 to over 12 kv
Voltage

24 AC, 110 AC, 115 AC, 12 DC, 12 to 24 DC Voltage Ranging, 120 AC, 120 DC, 125 DC Battery Charging, 208 AC, 220 AC, 230 AC, 24 DC, 24 to 120 AC/DC Voltage Ranging, 240 AC, 240 DC – 50/60, Uncommon voltages available upon request.
Max Differential / Max Operating Pressure

Vacuum to 10.3 Bar, Vacuum to 150 PSIG, 150-500 PSIG, 10.3-34.5 Bar
Operating Environment

Corrosive, Hazardous, Indoor, Outdoor
Lead-free versions are available to comply with Safe Drinking Water Act regulations
Low-temperature models control cryogenic fluids, including liquid nitrogen (-320° F/-194° C), liquid argon (-303° F/-184° C), and liquid oxygen (-297° F/-181° C)
Valves can be specified for hot water service to 210 ° F for in laundry, boiler and heat exchanger applications
Ideal for high-pressure control applications in commercial and industrial gas burners
Use to control liquid petroleum gases (propane) in grain dryers, incinerators, and space heaters
Voltage ranging options available on next generation coils.
ASCO 8210 Valve Documents
Related Articles To ASCO 8210 Valves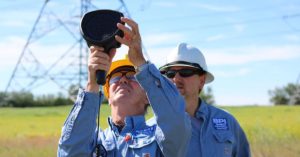 The FLIR Si124: Keeping the Lights On and Preventing Failures Application Story From FLIR Shop FLIR SPI Inspections relies on their vast field experience and
Read More »